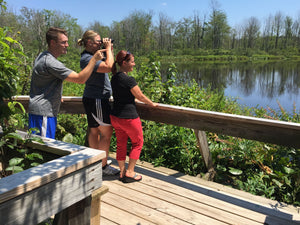 Indiana is Host to Amazing Birding Opportunities.
From the shores of Lake Michigan to the banks of the Ohio River, and everything in between, Indiana's diverse habitats have supported the documentation of over 400 bird species. Whether seeking close encounters with Ruby-throated Hummingbirds at Indiana Audubon's Mary Gray Bird Sanctuary or observing Bald Eagles roosting on the Mississinewa, adventure awaits on the Indiana Birding Trail.

Located within the Mississippi Flyway, Indiana is a prime migratory zone. Birds cruise back and forth between the far northern arctic, passing through Central America, to arrive in Argentina. The prairies, wetlands and forests of Indiana provide resources for birds to fuel up during migration, and the lakefront experiences massive spring migratory congregations as birds rest and prepare for the flight over Lake Michigan. Not to mention the wide variety of bird species that return to Indiana each spring to find mates and raise their young before returning to their wintering grounds farther south.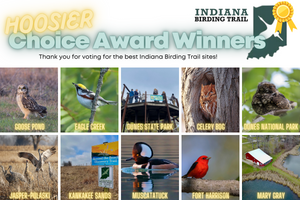 Hoosier Choice Awards
Your votes are in! 10 Indiana Birding Trail sites have been named the best of the best in the Hoosier Choice Awards. Check out the updated Indiana Birding Trail Guide to see if your favorite property was voted in.
A very special thank you to our sponsors.